RAYS: SUCCESS THROUGH INNOVATION………
The complexity and challenges of engineering projects steadily increase as both internal and external requirements become more constrained. Whether it is Infrastructure or real estate or any specialized project development; RAYS philosophy is "the client or other stakeholders deserve their projects to be completed on budget and on schedule without sacrificing its quality".

RAYS INSTITUTE OF VEDIC STUDIES PVT LTD, (RAYS Consulting wing) is a well established engineering consulting firm, based in NCR, INDIA, that has gained a reputation for innovative and cost rationalized solutions that exceed client expectations for quality, accelerated delivery, cost rationalizing measures and commitment. Our engineering services span all phases of infrastructural projects, may it be Hotels, entertainment parks, town-ships, Hospitals development or transportation, site development, and SEZ projects.

RAYS provide innovative utilizes and the latest engineering technology available to overcome project challenges, and then delivers superior constructible plans and a solid organizational plan.

Our mission has been to work with the best professional team who mobilize their creative skills every day to design solutions for their innovative projects worldwide. This commitment gives a sense to our company as well as our collaborators, who are able to realize their talents to the full.

Every day, we apply our technological and innovative expertise to enhance our clients' performance and bring their complex projects to life. Our expert teams are mainly called upon during the phases between the strategic plan regarding new technologies and the industrialization of products and services

PRE-DEVELOPMENT, PRE-CONSTRUCTION
CONSTRUCTION PHASE PROJECT MANAGEMENT
POST CONSTRUCTION SERVICES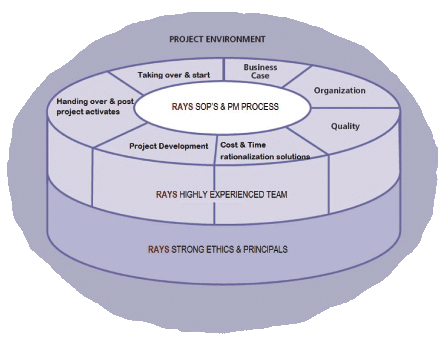 RAYS IS: OWNER'S REPRESENTATIVE
RAYS is a multi-disciplined project management services company capable of providing consulting advice or total development oversight. Functioning as an owner's representative, RAYS can provide a project scope description and site concept, model and plan optimum sizing for maximum revenue, manage the work of design and construction firms to help owners make optimal gaming industry decisions and to get projects open and operating with tight adherence to schedules and budget. Working with us, you are assured of thorough, experienced, trustworthy representation.

RAYS is headed by Mr. Anand, a career veteran of the development and construction industry.

From the broadest objective to the tiniest detail, RAYS can review, evaluate and monitor all stages of the development process. As an owner's representative, our goal is to meet your highest expectations at every level.

Integrity is a platform on which all RAYS Group Companies have operated since their founding. The ethical standards of our management and staff are beyond reproach, putting the best interests of the client first in all situations.

SERVICES
1. Project Feasibility
2. Due Diligence
3. Project Design and Development
4. Construction Management
5. Budget planning and Forecasting
6. Purchasing Scope and Definition
7. Market/ Industry knowledge
8. Facilities Management
9. Lease / Negotiations Skills
10. Team Building / Leadership
11. Client Relationship Building
12. Judgment / Problem Solving

ANALYTIC EVALUATION OF PROJECT PHASES
As Lead consultant and owner's representatives, the staff of RAYS uses its in-depth technical knowledge for the analysis of each activity of project and professional expertise to monitor the numerous details involved in bringing a project to reality.

There are basic engineering principles that help define the use and limitations of construction materials; Value engineering principles that optimize budgeting. Our expertise in legal issues, regional practices, codes and permits are all necessary to ensure that the project proceeds smoothly, on time and on budget, without any surprises to the client.

In its capacity as owner's rep, RAYS actively participates as a member of the project team with the owner, architect and other consultants during the design development phase and throughout construction. Our responsibility is to provide the expertise necessary to ensure that the budget and project schedules are met and that the final product meets the owner's expectations.

RAYS TEAM The staff of RAYS brings together the multi-disciplined expertise of some of the top experts in their fields. Headed by construction veteran Mr. Anand, the team is supplemented by the seasoned professionals from the fields of strategic planners, cost/ budget analysis experts, architecture, urban design, land use, project feasibility, amenity planning and more. Among them, they have been involved in number of developmental projects.

The projects for which the staff of RAYS is responsible include some of the best Hotels, corporate offices, Leisure and Hospitality Industries and townships developments in India.

From turn-key construction management to individual project consulting, RAYS can ensure an owner of the most efficient execution of their vision.